In this year like no other, we understand that most schools are grappling with canceled or postponed commencement ceremonies.That is why we are humbly proposing a program that we hope can help in a small, but meaningful way.
Introducing the Commencement Gift Program 2020 by Harris Made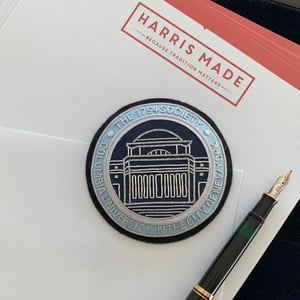 This program offers a special, safe and meaningful way to honor and recognize graduates, alumni and donors. Our unique paperweights are handmade with the same bullion wire thread used for the uniforms worn by the Queen's Guard at Buckingham Palace. Our ninth-generation mill weaves the scarlet uniform fabric worn by the Queen's Guard and is the recipient of the Royal Warrant from Her Majesty Queen Elizabeth II, the ultimate seal of approval for exquisite quality.
Truly a distinct way to honor these graduates in a way like no other, in a year like no other.
Features and benefits of the Commencement Gift Program 2020 by Harris Made include:
Showcase graduation class, university and institution's iconic crest and branding;
Bespoke 3.5" paperweight weighs a generous 150 grams each;
Can be shipped and delivered in a customized gift box with printed card with special note of recognition.
We are proud to offer special pricing, safe production and delivery of these gifts available for ordering now.